trainings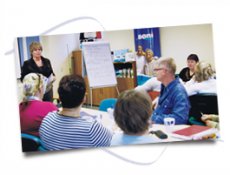 The development of our company is a process of continuous investments in human capital. In appreciation of our employees' passions and commitment we encourage them to raise their qualifications and improve their skills. We offer our employees a possibility to subsidize education related to the job they do.
We develop an offer of intern and extern trainings that improve the abilities on the current position and prepare the employees to accept new challenges in the future.
TZMO Training Group – a group of professional trainers working in TZMO in various markets has been created from the needs of constant education. The trainers offer trainings in products and in personal skills development adjusted to the individual needs of the group. In this way we contribute to both professional and personal development of our employees, and thus to bigger satisfaction and motivation to action.
The training process we initiate already in the first days of work in TZMO SA group with our adaptive program. The specially prepared packet of trainings lets a new employee get to know the organizational structure, product groups, procedures and the rules of work in our organization.