news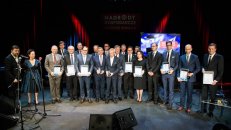 2017-06-24
TZMO SA won the business ambassador award
The Polish Radio announces awards for the first time.
In the category of Business Ambassador of the Republic of Poland the winner is TZMO SA.
The winners were selected by a panel made up of government officials, including Deputy Prime Minister Mateusz Morawiecki, who heads both the finance and development ministries.
» back to main page