news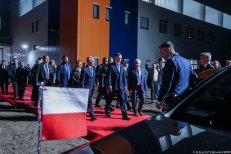 2018-10-22
TZMO Deutschland GmbH visited by Polish President Andrzej Duda
President of the Republic od Poland Andrzej Duda and First Lady Mrs. Agata Kornhauser-Duda paid an official visit to Berlin.
One of points of the agenda was a visit to TZMO Deutschland GmbH based in Biesenthal. German company of TZMO Group is great example of Polish investments in Germany.
Mr. President visited the newest investment of TZMO in Germany - modern logistic hall.
» back to main page