news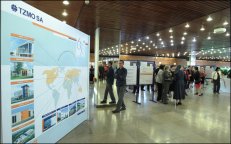 2012-04-24
Toruń Long-Term Care Days Conference - Apply for speech delivery
From 18 to 20 September 2012 there will be held the 15th International Long-term Care Conference on "Responsible Care of Dependent Persons" in Toruń. This is the biggest event of that type in Poland dedicated to the long-term care with more than one thousand of participants from all over Europe every year. The Conference has been organized by Toruńskie Zakłady Materiałów Opatrunkowych S.A. the Polish company that operates globally. Since the first editions the Polish Association of Gerontology is the Substantive Partner and Advisor of the Conference. Other international organizations, such as the European Association for Directors and Providers of Long-term Care Services for the Elderly E.D.E. also join in the cooperation.
Within the framework of this year's conference there will be held the session on  physical management and efficient patients rehabilitation in everyday practice. In this way we want to promote solutions which are imitable and have positive results.    

We invite you to register your institutions for the aforementioned session.  The proposals of speeches may be sent by all institutions which conduct innovative and unconventional actions in the area of physiotherapy and rehabilitation of patients. 

The September conference is an ideal opportunity to share your experience with other long-term care institutions and popularize proven solutions all over Europe. 

The persons who are interested in delivering speeches during the abovementioned session should send their applications to the address of the Conference Office. In the application form, please give the details of your institution, describe good practice and its results. The Scientific Conference Committee will decide which institutions will be chosen for presentation during the Toruń Days of Long-term Care. 

You can find more information on www.tdod.pl
The guidelines for applying for a speech delivery at the session "Good practice  in the area of physical management and efficient patients rehabilitation "

The Session on good practice will be held on September 19, 2012 from 16.00 to 17.30. Each speaker shall have 15 min. to present solutions applied in his or her institution. 

The Session will be translated into Polish, English, German and Russian.

The speakers of the session will be ensured:
- accommodation during the Conference 
- free-of-charge participation in the Conference 
- meals during the Conference 
- coverage of travel expenses.

The application should include:
1. The description of good practice in one of four languages: English, German, Russian or Polish (about 2-3 pages in Word, font 12, space 1,5)
2.  The details of the speaker together with a brief professional experiences.  
3. Contact details

The topics may include:
• physiotherapy in long-term care
• possibility of applying physiotherapeutic procedure to long-term care patients 
• therapeutic rehabilitation, including: 
-motoro 
-psychological
-social rehabilitation
• therapy in communication disorders 
• innovative methods of rehabilitating patients: 
- after brain damage as a result of disease, injury or genetic defect 
- after spinal injury  
- after  injuries to the musculoskeletal system
• prevention and treatment of spasticity
Please, send us your application by June 20, 2012 to the address of the Conference Office:
Europejskie Centrum Opieki Długoterminowej TZMO SAul. Żółkiewskiego 20/2687-100 Toruń with a note "Toruń Days of Long-term Care"or by e-mail to the address: ecod@tzmo.com.pl

The Scientific Conference Committee will choose the most interesting and  valuable initiatives which will be presented at the Conference during the session on good practice.  

Contact person:
Hanna Szymkiewicz;
tel. +48 723 185 150, +48 56 612 35 60


» back to main page