news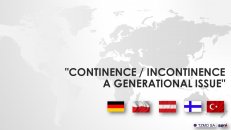 2015-04-29
The international project of TZMO SA "Continence / incontinence and generational issue"
The meetings of the project is taking place in Toruń in the headquarters of TZMO SA from April 26th untill May 2nd. The project engages students (medicine, architecture, management) from 5 countries (Finland, Germany, Austria, Turkey, Poland).
For a week they are going to discuss and exchange experiences related to long-term care in all five countries, listen to lectures, presentations and participate in practical activities. They are being accompanied by their professors, who live and work in different countries. The aim of this project is a methodical comparison of the knowledge and analysis of the differences in the performance of care for people affected by incontinence in the countries of students participating in the project. The sponsor and mecenas of the project is TZMO SA and Foundation "Together We Change the World", set up by TZMO SA. It is coordinate by the Honorary President of E.D.E (European Association of Service Providers and Directors and Long-Term Care for the Elderly), Mr. prof. Wilfried Schlüter and Miss prof. Katharina Oleksiv. The project is supported by Collegium Medicum of UMK. It is an another step to say that "Torun is the European capital of long-term care".
» back to main page