news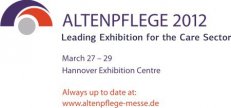 2012-04-11
Seni on Altenpflege 2012
Altenpflege is the leading exhibition for the care sector. For many years now it has been a place for meetings of producers, contractors, caregivers and all other people interested and connected with long-term care. The event takes place annually, alternating between the exhibition venues of Nuremberg and Hanover. It gathers over 34 000 visitors and over 720 exhibitors form over dozen countries each year.
This year, from 27 to 29 March, the event took place in Hannover Exhibition Centre. The organisers welcomed thousands of visitors and more that 650 exhibitors.
TZMO SA was present on this year's Altenpflege trade fair with its two major brands – Seni and Matopat on the stand hosted by TZMO Deutschland GmbH. It was a great opportunity fro us to meet our Clients and to show our products and services to all interested in long-term care.
Click on the pictures below to see some pictures from our stand:
» back to main page