quality and safety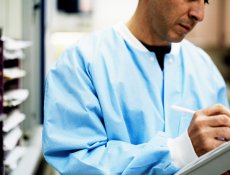 Our commitment to safety is reflected in all areas of our business – from concern for the regularity of production processes through investments in technological development, to protecting the environment.
Modern and reliable production technologies

We pay great attention to the control of our products from the very beginning of the process of their creation, therefore we carefully select suppliers, consumables and raw materials. We constantly take steps to shape the awareness of our employees, because it is thanks to people working directly in production that our products meet safety standards. We want to make sure that only safe products reach our customers.
Quality is the key

Our goal is to be able to continuously provide products and services that meet customer expectations and applicable legal and regulatory requirements.
In 1997, as the first company in Poland, we obtained a certificate confirming that we produce medical devices in accordance with the requirements of GMP (Good Manufacturing Practice) - the principles established by the WHO (World Health Organization).
To confirm that we have met customer expectations, legal requirements and ensured the safety of our products and services, we have implemented Quality Management Systems. Our efforts resulted in ISO 9001 Quality Management System Certification (first certification - 1997) and ISO 13485 (first certification - 2005) covering TZMO SA and production companies Bella sp. z o.o., Seni Sp. z o.o. and Plastica sp. z o.o., which has an integrated quality management system (in accordance with ISO 9001, ISO 13485, ISO 14001).
In 2020, TZMO SA was certified as an environmental management system ISO14001 compliant.
Medical devices bear the CE conformity mark, which confirms that they meet the relevant European Union regulations. The CE marking guarantees that the device does not pose a threat to the health and safety of patients, users and third parties.
In 2001 TZMO SA opened the Non-Public Healthcare Facility of MATOPAT Specialist Hospital. The hospital provides medical services and also has the function of a research, development and training center. In June 2010 the hospital obtained ISO 9001 Quality Management System Certification and in March 2013 Minister of Health Accreditation Certificate
In 2001, TZMO SA opened Sterilization Service Centres in Łódź, and in the following years in Bydgoszcz, Cracow, Szczecin and Warsaw, providing services to hospitals and surgeries. The Sterilization Service Centers have been certified to meet the Quality Management System's Compliance with ISO 9001, ISO 13485 and ISO 14001 standards.
Since 2008 TZMO SA has also been developing a network of laundries providing laundry services for hospital, hotel and catering linen , clothing, underwear and workwear. .
Our laundries, which currently operate in Bydgoszcz, Łódź, Cracow, Warsaw and Zabagnie near Tczew, have implemented and certified PN EN 14065 Hygiene Quality Management System Standard.
Safety above all
The quality management systems implemented in TZMO SA and companies of TZMO Group are a testimony to the desire of continuous development and improvement in the functioning of processes, and the implementation of environmental obligations is made possible by the TZMO Group environment management systems implementation and the engagement of employees in environmental protection issues.
Integrated Management System Policy