news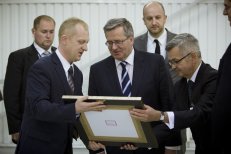 2014-03-20
President of the Republic of Poland Bronislaw Komorowski paid an official visit to Bella Hungaria Ltd. on March 21st.
Bella Hungaria Ltd. has conducted its business activity since 1996 and is the first foreign trade company within TZMO Capital Group.
Polish President is going to participate in the official celebrations of the Day of Polish-Hungarian Friendship Day which has been celebrated on March 23rd since 2007.
As a part of the commemorations Hungarian and Polish Presidents - Janos Ader and Bronisław Komorowski - will meet on Friday in Eger.
Visit in Bella Hungaria was preceded by the meeting with representatives of Polish companies operating on the Hungarian market which was hold in Budapest.
This was the second visit of the Polish President in TZMO Capital Group.
As a result of receiving in 2012 a Polish President's Business Award for "presence on the global market", in April 2013 Bronisław Komorowski paid an official visit in Plastica - a state of the art production company - which operates within Pomeranian Special Economic Zone.
» back to main page