news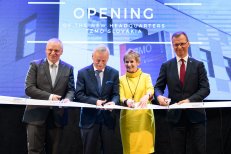 2019-04-15
Opening of the investment of TZMO Group in Slovakia
On Friday, April 12th we celebrated a grand opening of the newest investment of TZMO Group - headquarters and warehouse of TZMO Slovakia
Dear All,
On Friday, April 12th we celebrated a grand opening of the newest investment of TZMO Group -
headquarters and warehouse of TZMO Slovakia
based in Senec near Bratislava.
Thanks to the convenient location - ca. 80 km fom Vienna - TZMO Slovakia will serve Austrian market as well.
The event was attended by His Excellency Ambassador of the Republic of Poland in Slovakia Mr. Krzysztof Srzałka.
Please see the pictures attached.
Please visit regularly
tzmo-global.com
and
Facebook
.
Wishing you a great week,
President&CEO Office of TZMO SA
» back to main page