news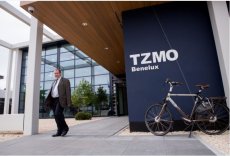 2017-05-17
New headquarters of TZMO Benelux
May 16th, 2017 is another significant date in TZMO Group history. It's when TZMO Benelux opened its new headquarters located in 's-Hertogenbosch, around 100 km from Amsterdam. New premises will serve as a marketing-training-logistic center.
It's another investment of TZMO Group.
Netherlands is one of 18 markets where TZMO Group is organized and its products under such brands as happy, seni, bella, matopat, citonet reach nearly 1/3 of the world population.
During the grand opening and cutting the ribbon by Mr. Jarosław Józefowicz – President&CEO of TZMO SA was accompanied by Mrs. Małgorzata Grzymowicz – New&West Markets Director of TZMO, representatives of local authorites and business partners. Embassy of the Republic of Poland in Hague was represented by Mr. Tomasz Waźbiński – Head of Trade and Investment Promotion Section.
"There are around 100 hospitals within Dutch medical market. In most of them we are already present and we plan to reach another ones not only with our incontinence products under Seni brand but also with our services CitoNet."– says Mrs. Małgorzata Grzymowicz, New&West Markets Director of TZMO.
Logistic base of TZMO Benelux is a state of the art. warehouse of high storage with an are of over 1500 m2 with five-level construction and the possibility of further expansion. Construction of the investment took less than a year.
» back to main page