news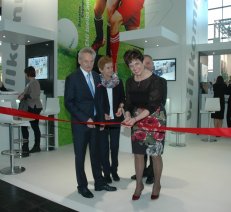 2014-03-28
Mrs. Ewa Mes Kuyavia-Pomerania Provincial Governor paid a visit to TZMO Deutschland GmbH with its headquarters in Biesenthal and to Altenpflege fair in Hannover
Mrs. Ewa Mes Kuyavia-Pomerania Provincial Governor paid a visit to TZMO Deutschland GmbH on March 25th, 2014.
In the meeting on TZMO side participated Mrs. Małgorzata Grzymowicz – West&New Markets Director, Mr. Jarosław Józefowicz – President&CEO of TZMO SA and Mr. Piotr Daszyński – President of TZMO Deutschland GmbH. Local authorities were represented by Mr. Andre Stahl – Mayor of Biesenthal.
Mrs. Ewa Mes was in Germany on the occasion of Altenpflege fair, during which she made a grand opening of the stand of German company.
Altenpflege is the biggest trade show in the field of long term care. It's annually visited by over 30 000 guests.
Since the beginning TZMO Deutschland GmbH has actively participated in this event promoting products under SENI brand.
» back to main page