news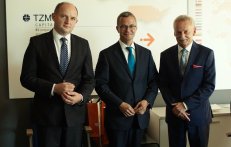 2016-09-02
Minister for Economic Affairs and Energy of Brandenburgia, Germany in TZMO
On September 1st, 2016 Plastica, one of companies belonging to TZMO Group was visited by Minister for Economic Affairs and Energy Mr. Albrech Gerber along with represenatives of ZAB Brandenburg Economic Development Board.
One of the main topics discussed was 5th investment of TZMO Deutschland GmbH which will start in the beginning of September.
Guests were joined by Marshall of Kuyavia and Pomerania voivodeship Mr. Piotr Całbecki.
Mr. Gerber: "We are proud that TZMO invests in Brandenburg.
» back to main page