news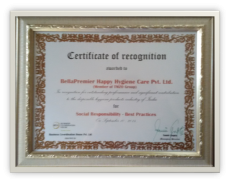 2014-09-14
BellaPremier Happy HygieneCare Ltd. awarded for CSR activities in India
Contributing to society through business.
CSR activities (Corporate Social Responsibility) for many years have been an integral part of a strategy and philosophy of TZMO Group worldwide.
Large-scale activities within CSR are conducted in India as well. For implementing programme "Bella Training programme" in schools, BellaPremier Happy HygieneCare Ltd. received an award for "Best practices" from Business Co-ordination House. On behalf of our Indian company the award was picked up by Ms. Agnieszka Wronkowska - Sales&Marketing Director.
» back to main page