news
2013-12-11
Bella-Hungaria Kft. – completion of the new investment
In November 2013 an investment process was completed and brand new warehouse of Bella-Hungaria Kft. which belongs to TZMO Capital Group was officially opened.

The event was attended by Mr. Jarosław Józefowicz – President&CEO of TZMO SA, Mrs. Małgorzata Grzymowicz – West&New Markets Director of TZMO SA, Mr. Tögyi Gábora – Mayor of Egerszalók as well as the owners and representatives of construction design company ATLANT, contractors from WIKTORY  company and last but not least Bella-Hungaria employees.
Overall, the surface area amounts 964 square metres and numer of pallets increased by 1330.
Increased number of loading ramps as well as enlarged floor area for products completing enables completely new organization of receiving and shipping goods.
The investment significantly improve both the speed of performing stock operations and the security of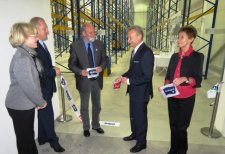 stocks for the clients of the utmost importance – pharmaceutical wholesale companies, hospitals, dialysis centres and retailers.
» back to main page