news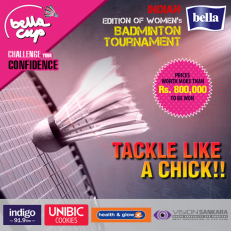 2015-02-03
Bella Cup in India starting soon!
Is it a second edition of badminton tournament which is organized for girls and women in India by our companies Bella India and BellaPremier (TZMO Group) and its brand Bella.
Bella Cup is badminton tournament for girls and women organized in India under the auspices of TZMO SA and its brand Bella aiming at promoting healthy lifestyle among females. It has the roots in tennis tournament Bella Cup  organized for 20 years in Poland gathering participants from all over the world being sponsored by mother company TZMO SA.
Bella Cup in India jest second edition of the tournament. First one took place in Madurai Race Course (Tamil Nadu) and that time gathered 38 double teams from across the state, divided in two groups categories - below and above 17 years old. Aiming to be local competition, appeared to be great success and what is the most important - brought a smile on a faces of many girls.
This year Bella Cup is organized in 3 cities of different states:
7.-8.02 Bangalore (Karnataka)

14.-15.02 Coimbatore (Tamil Nadu)

18.-19.04 Cochin (Kerala)
in five age categories for both singles and doubles. State Badminton Associations of  Karnataka, Tamil Nadu and Kerala have been kind enough to play vital role in promoting the event in their respective states.
The tournament will see close to 1000 enthusiastic players come together across the three editions and battle it out for the prestigious Bella Cup awards. Prizes are worth more than 8lakhs to be won.
» back to main page