news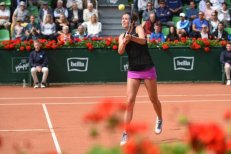 2017-07-03
23rd International Women's Tennis Tournament Bella Cup has been played
Chantal Skamlova from Slovakia is a champion of 23rd International Women's Tennis Tournament Bella Cup with prize money of 25 000 usd.
It has been the biggest success in her career. For a victory Skamlova received 60 pionts to het WTA ranking.
In this year's tournament competed 76 tennis players from all over the world. Many of them openly praised the organization of the tournament. It's an extremely optmistic sign before next editions of Bella Cup.
» back to main page