news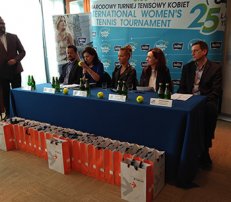 2019-05-20
1st Press conference of 25th international women's tennis tournament
On Thursday, May 16th in the headquarters of Polosh Olympic Committee was held 1st press conference announcing the upcoming an unique, jubilee 25th International Women's Tennis Tournament BELLA Cup 2019.
TZMO was represented by Mrs. Agnieszka Górna - Member of the Management Board of TZMO SA.
During the press conference there were announced first names of tennis players who will compete in BELLA Cup such as
Barbora Krejcikova, Kristina Kucova, Paula Kania, Magda Fręch, Katarzyna Kawa, Maja Chwalinska, Skamlova, Sabina Lisiecki.
Join us on
25th International Women's Tennis Tournament, June 3rd-9th in Toruń
All updated info as always on
www.tzmo-global.com
FB
www.bellacup.pl
Wishing you a good day,
President&CEO Office of TZMO SA
» back to main page