news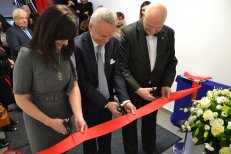 2016-01-13
12.01.2016 - Grand opening of CitoNet Warszawa
On January 12th, 2016 there was a grand opening of CitoNet Warszawa.
It's a 6th CitoNet service centre in Poland which specializes in the processes of sterilization, washing, leasing surgical instruments, operating clothing and bed linen.
The first center of sterilization was opened in Łódź, and in subsequent years in Bydgoszcz and Kraków (2004) as well as in Szczecin (2006).
» back to main page